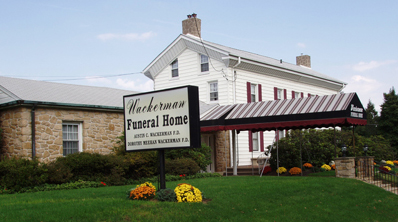 1944 - Austin C. Wackerman - 2017
Elizabeth Wackerman Bailey, Supervisor
Emily Wackerman, Funeral Director
**COVID-19 protocol. As Philadelphia starts a slow phase by phase re opening of the city, our funeral home is ready to serve families in the safest way possible. Please note that anyone attending any type of service must wear a face mask in our building. All local religious establishments and cemeteries are following the same guide lines. We ask that you keep social distancing measures in mind when waiting in any lines and when greeting other people. Any services in the funeral home you will enter under long canopy that faces Verree Rd. and exit the back doors under canopy into our parking lot. If you are uncomfortable signing the register book with provided pen after using hand sanitizer then please bring one from home and take it with you. There will be no congregating in our meeting rooms, we will be letting small groups in at a time and then no one else will be permitted to enter until that group leaves. Expect long lines that will be outdoors so plan accordingly, also plan that there will be a possibility that if there are large crowds you will be unable to get in. We suggest if you have pre-existing health issues or are immunosuppressed or have someone living in your home that is, please do NOT attend services. Hoping that soon we will be able to get back to normal but until then, this will be our procedure.
Serving families for three generations, the Wackerman Funeral Home was founded by Charles V. Wackerman in the early 1940's in the Germantown section of Philadelphia. Shortly thereafter, Charles established a funeral home in what is now the Northern Liberties area of the city.
In 1952, Dorothy Meehan Wackerman obtained her funeral directors' license and, in 1958, the Wackermans opened a funeral home in Fox Chase. Shortly thereafter, the Northern Liberties location was closed.
Active in professional associations, Charles Wackerman was a lifetime member of the Pennsylvania Funeral Directors Association and served as its President for several years. He was appointed a member of the Pennsylvania State Board of Funeral Directors and held the position of Chairman for several terms.
Austin C. Wackerman, who passed away May 1, 2017, obtained his license in 1969. Graduate of Cardinal Dougherty High School class of '62 and Pittsburgh Institute of Mortuary Science class of '67. Austin was long time member of the Artisans, a parishioner of St. Hilary of Poitiers Church (Rydal, PA) for over 30 years, and was active in the St. Cecilia Church (Fox Chase) community since moving to the area in his early teens.
His daughter, Elizabeth Wackerman Bailey, who recently became the Supervisor of Wackerman Funeral Home Inc., was licensed in 1993 after graduating from Northampton Community College. She is a graduate of Bishop McDevitt High School class of 87', and Villanova University class of 91'. Betsy is an active member in the St. Hilary of Poitiers
(Rydal, PA) School and Church community, and a parishoner of Our Lady Help of Christians Church (Abington, PA) .
His other daughter, Emily Wackerman, obtained her licensed in 2010, after also attending Northampton Community College. Graduate of Bishop McDevitt High School class of 00' and Arcadia University class of 04'. Emily is an active member of the Rotary Club of Willow Grove, currently serving on the board of directors for the past five years.
The Wackermans are members of the National Funeral Directors Association and the Pennsylvania Funeral Directors Association.
Each of the Wackermans, who are funeral directors, has been licensed by the Commonwealth of Pennsylvania.